Hello everyone,
The purpose of this "Curate" is to share some interesting readings relevant to this month's special issue – business strategy and development. As the articles/ papers tend to be longer, I will share the key points so that you can grasp their essence, and come back to the longer version when you have a break 🙂
Let's start with the big picture and see what the predictions are for corporate Asia's performance and the need for reskilling. We will then check how the luxury industry is coping with the current crisis. 
Finally, we will deep dive into the secrets of successful female networkers and the psychology of office politics.
大家好!
這期的《策展》是為了分享一些與每月專題討論相關的有趣讀物–商業策略和發展。由於文本往往較長,因此我將分享關鍵點,以便大家掌握重要的內容,並在閒暇時閱讀更詳細的版本。
讓我們從大局開始,看看業界對亞洲企業的業績和技能需求的預測。然後,我們將一覽精品行業如何應對當前的危機。
最後,我們將深入探討成功專業女性在建立人脈網路的秘密,和辦公室政治的心理。
Corporate Asia's performance 亞洲企業的表現

In a very insightful discussion paper released by McKinsey Global Institute earlier this month, we find a thorough analysis of how companies are performing in Asia – providing an understanding of the post-covid-19 challenges and how Asia can emerge stronger from the crisis.
Despite the agility and dynamism of Corporate Asia building its resilience, McKinsey highlights that market stagnation has started to become a recurring problem. 
在本月初,麥肯錫全球研究院發表的文件中,我們找到了企業在亞洲的表現之全面分析–提供了對疫情後時代將面對的挑戰,以及亞洲如何從危機中崛起。
儘管亞洲企業集團的敏捷性和活力增強了其韌性,但麥肯錫強調,市場停滯已經成為一個反復出現的問題。
Corporations in Asia have grown rapidly and risen to global prominence over the past decade. They account for 43 percent of the world's largest companies by revenue
However, growth in scale and revenue has not, overall, translated into higher economic profit. Globally, returns have fallen because of an abundance of cheap capital. 
[…] the COVID-19 pandemic may accelerate the widening of the gap between underperforming and outperforming companies.
Asia could unlock $440 billion to $620 billion in economic profit by improving performance at the company level and investing in value-creating sectors. 
Companies in Asia can make significant performance improvements in five sectors: Pharmaceuticals, Consumer goods, Energy and materials, Real estate and Banks.
Companies in Asia will also need to explore opportunities ahead, building capabilities to sustain long-term growth in a more volatile context by accelerating

digital adoption

, building scale by

exploring M&A

and continued

regionalization

, and be bold and agile in the

management of portfolios

.
More details here
在過去的十年中,亞洲企業發展迅速,並在全球範圍內佔有舉足輕重的地位。按收入計算,它們佔全球最大企業的43%
但是,規模和收入的增長並未轉化為更高的經濟利潤。以全球來說,由於大量廉價資本,回報率有所下降。
COVID-19的流行,可能會使表現佳的企業與表現不佳的企業之間的鴻溝擴大。
通過改善公司的績效,並投資於持續創造價值的行業,亞洲可以創造4,400億至6,200億美元的經濟利潤。
亞洲企業可以在五個領域表現良好的績效:製藥,消費品,能源和材料,房地產和銀行。
亞洲企業仍需要探索未來的機遇,通過

加速數位化轉型

來增強能力,以在更加動蕩的環境中維持長期增長,且通過

併購

和不斷的

區域化

來建立起規模,同時在投資組合的管理上維持大膽與靈活。
Reskilling and upskilling can transform the future of work for women
技能提升,正在改變工作女性的未來

Regarding the topic of accelerating digital adoption mentioned in the previous article, I believe this to be especially relevant to women in the workforce. 
When business models are disrupted, employment is profoundly impacted. This will result in significant job creation, but also displacement. Reskilling and upskilling then become necessary steps to improve the corporate gender balance and speed up the pace of progress on diversity, on the journey towards innovation and resilience.
In the current models, women are the ones having their career frequently disrupted. With the fast pace of change in technology, companies do need to offer reskilling/ upskilling options.
關於上一篇文章(延伸閱讀:GLOBAL PERSPECTIVES WITH KARINE 音樂、藝術、時尚 :新冠病毒帶來的(正向)改變)中提到的加速數位轉型的主題,我認為這與勞動力中的女性特別相關。
當商業模式被破壞時,就業市場將受到深遠的影響。這將帶來大量的就業機會,但也會造成失業率的波動。也就是說,提高技能水平,將成為改善公司性別比,並加快企業實現多樣性和創新的必要步驟。
以目前的模式中,職場女性常常受到不公平的對待。隨著技術變革的快速發展,公司確實需要提供技能升級的政策。
95% of workers who are at risk of being phased out by technology could be retrained for jobs that pay as much or more.
By 2022, at least 54% of all employees worldwide will need significant reskilling and upskilling. The half-life of a job skill today is about five years—and falling. 
The IMF projects that 11% of jobs currently held by women are at risk of elimination as a result of digital technologies—a higher percentage than for jobs held by men.
Reskilling also offers an exciting strategy for bringing women who have stopped working mid-career back to work.
Reskilling throughout the new decade, they (companies) can take advantage of untapped female talent and ensure that women aren't disproportionately losing jobs.
Upskilling measures can provide promising female employees with the skills they'll need to be leaders in a new digital era.
More details here
95%處於被技術淘汰風險的工人可以接受再培訓,以獲得薪水更高或更好的工作。
到2022年,全球至少有54%的員工需要經過大量的技能再培訓。今日,一項職業技能的半衰期約為五年,並且數值仍在下降。
IMF預測,由於數位科技的存在,女性目前擁有的工作中有11%處於被淘汰的風險,比例高於男性。
技能重塑也提供了一種令人振奮的策略,可以使已經在職業中期被迫離開職場的婦女重新投入工作。
在未來的十年,公司可以通過提高技能來訓練仍未被注目的女性人才,並確保女性不會面臨大量失業。
提供技能提升的政策,將培養女性員工具備在數位轉型時代成為領導者所需的技能。
Luxury Industry

A recent study conducted by Bain predicts a decline of 20 to 35 percent of global sales for luxury handbags, clothing, and cosmetics in 2020. So far, this robust industry managed to stave off several crises. For instance, the global financial crisis of 2008-2009 only shaved 9 percent off  its value. But the return to business as usual appears to be quite unlikely this time. 
Reinventing the brands' digital and e-commerce approaches will be a key shift for the industry, building on the latest technologies while executing consistently with the brand storytelling. 
In this article, ten of the top minds in luxury share their thoughts on the business strategy and trade's post-pandemic future. It is all about digitalization, customization and sustainability.
Bain 最近進行的研究預測,到2020年,全球的奢侈品、服裝和化妝品的銷售額將下降20%至35%。到目前為止,這個行業成功避免了幾次危機。例如,2008-2009年的全球金融危機僅使價值縮水了9%。但在這次的疫情影響下,似乎不太可能恢復正常營業。
重塑品牌的數位行銷和電子商務將是該行業轉變的關鍵,該如何使用最新技術,卻又同時與品牌形象保持一致。
在這篇文章中,十位頂級奢侈品專家分享了他們對商業策略和後疫情時代的看法,涉及數位化,客製化和永續發展。
In spite of the fact that 2020 has already been

labeled

"the worst year in the history of modern luxury," the subtext of the replies was an enduring optimism about the industry's resilience.
The opportunity lies in telling a story through very personal luxury goods that have meaning for the individual wearer. 
We now have to take a step back and appeal to consumers who need time to digest what they buy. We need to think less about seasonal trends and more about timeless pieces.
Brands will try to produce less, at better quality and better value and they will manage supply chains with a lot more care — and consumers will demand it.
Due to its long supply chains and energy-intensive production, the fashion industry consumes more energy than the aviation and shipping industry combined,

according to the UN

. It is also responsible for producing large amounts of waste and polluting waterways.
儘管2020年已經被認為是「現代奢侈品史上最糟糕的一年」,但多數專家卻對該產業的危機處理能力持樂觀態度。
機會在於通過「非常個人」的奢侈品講故事,這對於每個佩戴者都具有意義。
我們現在必須思考的是,吸引那些不會在短期內不斷購物的消費者。我們需要少考慮季節性趨勢,而多考慮可以持續保持品質的產品。
品牌將努力生產

數量更少、質量更高,價值更高

的產品,並且將更加謹慎地管理供應鏈,而消費者將對針對此更動有所需求。
聯合國稱,由於其漫長的供應鍊和高耗能的生產,時尚業消耗的能源比航空和航運業的總和還要多,製造奢侈品的過程,產生大量廢物和污染水道。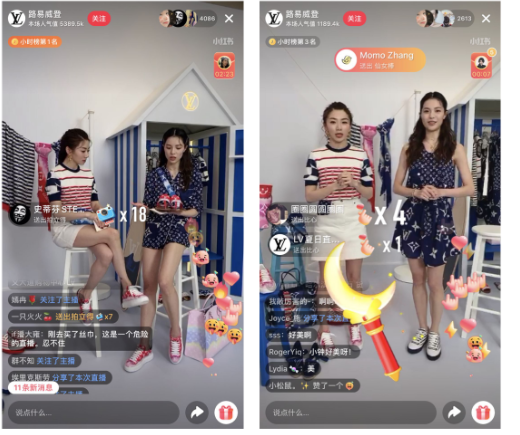 Livestream host Yvonne Ching (left) with guest celebrity Zhong Chuxi (right).
程曉玥與鍾楚曦與LV的直播畫面
Latest news from the industry: Emma Watson joins board of Gucci owner Kering.

最新消息:艾瑪·華森受邀入主開雲集團董事會
Office politics and Networking 辦公室政治與角力
I have very often regarded office politics as something "toxic" to avoid because it is very difficult to navigate – it is like unwritten rules that determine who gets what, when, and how…
"man is by nature a political animal."
But I also figured out that there is also such a thing as good office politics and that the best way to deal with the topic is probably to play with it versus complaining about it.
通常,我總是避免自己陷入辦公室政治的局面,因為它很難駕馭–那些不成文的規則,決定了誰能得到什麼。
「人天生就是一種政治動物。」
但我後來也發現,還有一種良好的辦公室政治,處理辦公室角力的最佳方法,可能是與之共處,而非抱怨。
Much of what we mean by

corporate "culture"

provides clues for understanding office politics.
Bad politics

are, at the heart, about promoting oneself by any means necessary. 
Good politics

, on the other hand, involve advancing one's interests but not to the neglect of other people's rights or the organization's legitimate interests. 
Good politics can be broken into 4 dimensions:
1/Social astuteness: the ability to read other people and the self-awareness to understand how they see you.
2

/

Interpersonal influence

:

a convincing ability to affect how and what other people think.
3/Networking ability: the capacity to form mutually beneficial relationships with a wide range of people from diverse backgrounds.
4/Apparent sincerity

: seeming to be honest, open, and forthright. How honest you think you are is far less important than how honest other people think you are.
我們所說的企業文化,為其辦公室中所需遵循的規則提供了線索。
不良的政治:通過任何必要的手段得利於自己。
良好的政治:提高自己的利益,卻沒有忽視他人的權利或組織的合法利益。
良好的政治可以分為四個方面:
1 /社交敏銳度:能夠閱讀他人的能力以及了解他人的自我意識。
2 /人際關係影響:具有令人信服的能力,可以影響他人的想法和方式。
3 /社交能力:與來自不同背景的人群,建立互惠關係的能力。
4 /誠意:誠實,開放和坦率。他人認為你誠實的重要性,遠大於你認為自己誠實。
Regarding the Networking Ability, I was surprised to read that although women are often seen as more "social" than men, according to the 2018 Women in the Workplace report by LeanIn.org, women actually network less than men. They tend to underutilize this powerful soft skill and self-impose barriers as gendered modesty. They tend to undersell their value and strengths and are reluctant to leverage their connections to achieve clear career advancement motives.
But some female leaders do establish strong networks — and they garner greater influence and more-senior positions as a result. What are they doing differently?
關於社交能力,讓我驚訝的是,儘管LeanIn.org的《 2018年職場女性報告》顯示,儘管女性通常被認為比男性更懂得「社交」,但女性的人脈網絡實際上卻比男性少。女性往往沒有充分利用這項強大的軟實力,設置障礙並自以為是一種謙虛。他們傾向於低估自己的價值和優勢,不願利用自己的人脈,來達成職業發展的目的。
但是,一些女性領導人卻建立了強大的人際關係網,她們更因此獲得了巨大的影響力和更高的職位。她們做的有何不同呢?
One often-cited reason why more female executives don't advance to top management jobs is their lack of access to informal organizational and industry networks.

The researchers analyzed data collected from 16,500 men and women in more than 30 organizations across a range of industries over the past 15 years. This led them to identify four characteristics that distinguish the networking behaviors of the more successful women from those of their peers.
Efficient: The female executives who rise to the top are "more strategic and thoughtful" about how they spend their time.
Nimble

:

Successful female networks are more fluid. High-ranking women know when to deemphasize old connections in favor of new ones
Boundary-spanning:

The highest-ranking, best-networked women connect with people in a wide variety of functions, geographies, and business units.


Energy-balanced

:

the highest performers are seen as the most energizing people in their networks—as the type of colleague who makes the work more engaging, which then drives better performance. 
人們經常以此為理由:為什麼有越來越多的女性主管無法晉升為高層管理人員?原因是她們鮮少將非正式的組織和行業網絡當成晉升的管道。
研究人員分析了過去15年中,從多個行業的30多個組織中的16,500名男女收集的數據。這使他們確定了四個特徵,以區別較成功的女性和同齡女性的網絡行為。
高效

:晉升至最高職位的女性高管,在時間管理上「更具戰略性和思想性」。

敏捷

:成功的女性網絡更加靈活。高層女性知道何時應該偏重新建立的關係,而不再仰賴過往的關係。

跨越邊界

:最高級別、人脈最豐富的女性在各種職能、地理位置和不同部門中與人們聯繫。

能量平衡

:表現最佳的人被視為網絡中最富有活力的人,他們讓工作更有參與感,從而推動了更好的績效。