Hello everyone and welcome to the first edition of "Macarons with Karine" 
The idea of this column is to bring to the CAREhER community a new external lens by curating content and selecting relevant readings from current affairs, technology, lifestyle, fashion, well-being… 
We hope you like it and look forward to hearing your comments and suggestions for other topics, or topics that you would like a deep-dive into. 
Insights 觀點
Music, Art, and Fashion: how Covid-19 is changing (positively) those industries.
Let the music play

The Covid-19 crisis has

hit the global music industry hard

. While concerts and music festivals have been canceled around the world, the crisis has demonstrated the role that music plays in bringing communities together, and its ability to reinvent itself through the crisis. 
"As music consumption becomes increasingly digital, there is a growing role for third-party platforms in shaping music distribution, discovery and consumer behaviour."
Virtual Catwalk and Digital Fashion.

The fashion industry is going through a

profound change

. According to the industry experts, the time has come to rethink seasonality and the current business model. For example, Saint Laurent has announced that it would not stage any runway shows for the remainder of the year, and will show clothes on a self-determined calendar. 
"COVID-19 is forcing brands to engage and experiment with immersive technologies. We've been inundated with requests on how to create virtual clothing, virtual catwalks and virtual showrooms." Matthew Drinkwater, Head of Fashion Innovation Agency (FIA)
Let's go to Paris and visit the Musee d'Orsay!
During the lockdown in France, my sister was quite bored and hungry for culture – trying to find good virtual museum experiences. Many museums have created online tours,  from basic Youtube videos to full VR experience.
You can definitely say that the Musée d'Orsay did a great job! This museum holds the largest collection of Impressionist and post-Impressionist works in the world. I grew up in Paris and actually only went there once!
You can click your way through the very best among them thanks to interactive galleries featuring van Gogh, Cézanne, Degas and more. You can even play with the Art Projector which lets you see how artworks look in actual size in front of you. 
Because we all need a culture fix while we cannot travel 🙂 If you want to continue your cultural journey, you can also visit the British Museum!
音樂、藝術、時尚:新冠病毒帶來的(正面)改變
新冠病毒疫情帶給全球的音樂產業一記重擊。雖然許多世界各地的演奏會、演唱會、音樂祭等相繼取消,但這場危機,反而凸顯音樂難能可貴的作用。除了給予人們力量,將彼此拉近,同時音樂也透過疫情,為自己找到新的價值定位。
「當人們越來越傾向於用數位化的方式聆聽音樂時,第三方音樂平台顯得日益重要,也塑造音樂的新經銷發行、觸及型態,還有消費者行為。」
時尚產業也面臨著巨大的轉變。
資深時尚業人員表示,該是時候來重新思考,時尚產業的季節性與目前商業模式。例如,YSL 已表示今年將不再舉辦任何實體走秀活動,僅按照自訂日程發表新裝。
「為了因應新冠病毒的疫情,品牌必須嘗試、採用可以帶來沉浸式體驗的各項新興科技。我們收到來自四面八方的詢問,大家都想知道如何創造出虛擬衣服、虛擬走秀、虛擬陳列室。」馬修・德林克沃特(倫敦時尚學院,時尚創新中心主任)
巴黎封城之時民眾無法上街,我居住在巴黎的姊姊也因此感到十分無聊。她想要感受些文化氣息,於是上網搜尋不錯的虛擬博物館體驗。
幸好許多博物館都開始提供線上導覽,除了 Youtube 影片,也有完整的虛擬實境體驗。
其中,奧賽博物館絕對值得嘉許!全球最龐大的印象派、後印象派作品集,都典藏於此。雖然我從小在巴黎長大,竟然只有造訪過一次!
感謝博物館設置了互動藝廊,現在我們只要動動滑鼠,就可以欣賞梵谷、塞尚、竇加等大師的成名傑作。Art Projector APP 甚至可以模擬出作品實際大小,直接展現在妳面前。
即使無法旅行,我們還是需要擁有文化修養。如果想繼續體驗這類虛擬文化之旅,妳還可以參觀大英博物館。 
Food for thought 一些啟發
Why women leaders are excelling during the coronavirus pandemic
You might all have seen this image on your social media feed and looking through this list, it's tempting to arrive at the conclusion that women must be better at dealing with this crisis because of their gender and their ability to be more empathetic. But isn't it a bit reductionist? 
"Resilience, pragmatism, benevolence, trust in collective common sense, mutual aid, and humility are mentioned as common features of the success of these women leaders."
Why it matters: When it comes to women and politics, it seems quite key to broaden our perspective and enrich the debate!
為什麼女性領導人在新冠病毒疫情期間,表現如此出色呢?
大家或許都在社群媒體上看過上面這張圖片。看看這份清單,很容易讓人覺得,這些領導人的危機處理之所以出色,一定是出自於性別上的優勢,讓她們更具備同理心。但是這樣的想法,是否有些太過簡化的嫌疑?
「這些女性領導人的成功,共同特色在於她們的韌性、務實、善意、對群眾的常識有信心、互助精神、以及謙遜。」
為什麼重要:談到女性與政治,我們應該拓展我們的視野,便能促進更豐富的對話。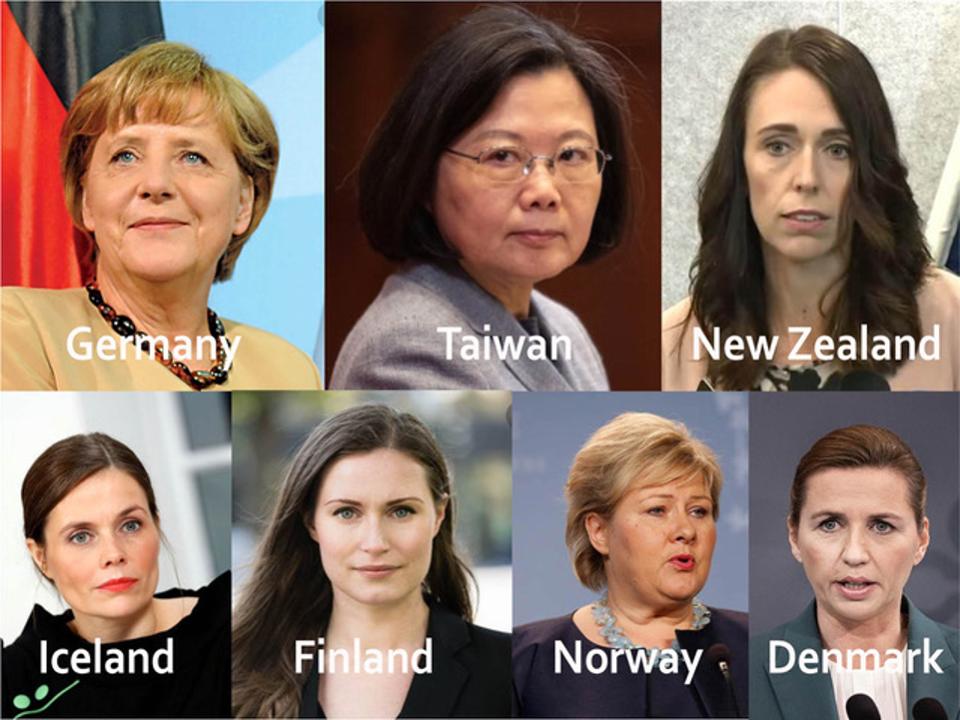 If you have 3 more minutes…如果還有三分鐘
In this Covid-19 environment, where the main goal is to remain healthy and protect our family, space-related issues and debates are very far from our reality. Yet, space is more relevant to our daily lives than ever before.
The story: SpaceX made history last month, flying NASA astronauts Doug Hurley and Bob Behnken to space aboard its Crew Dragon spacecraft using a Falcon 9 rocket.
Background: The capsule carrying the two NASA astronauts docked at the International Space Station on Sunday, May 31st, less than a day after a launch that marked the first time humans had ever traveled to orbit in a spacecraft built and operated by a private company.
Why it matters: In a field that has been traditionally male-dominated, we've actually reached milestones for Women in Space. Earlier this year, NASA's latest astronaut graduates almost half women
Go deeper: Listen to Christina Koch, a space pioneer – She holds the record for the longest time a woman's been in orbit, just spent 11 months in space and then returned to a nation under lockdown…
新冠病毒疫情肆虐,保護家人和健康是首要任務,「太空」類的相關議題,不禁顯得十分遙遠。然而,「太空」卻比以往任何時候,都要更貼近我們的日常生活。
故事:上個月,SpaceX(太空探索技術公司)用自家生產的 Crew Dragon 太空艙,還有獵鷹9號運載火箭,成功將 NASA 兩位太空人 (Doug Hurley and Bob Behnken) 送上外太空,創造了歷史性時刻。
背景:載著兩位 NASA 太空人的太空艙,於5月31日星期天,與國際太空站對接成功。從發射到對接,只用了不到一天的時間。這也是史上第一次,民間企業所建造的太空艙,讓人類登入太空,展開了太空軌道旅行的新扉頁。
為什麼重要:太空相關產業過往皆以男性員工居多,但今年上半年,最新一批 NASA 結訓的太空人,幾乎半數都是女性。太空產業裡的女性人數,無疑立下了新的里程碑。
深入了解:聽聽看太空先行者 Christina Koch 的特殊經歷。她在太空裡待了整整11個月,是「在太空軌道裡住過最久的女性」紀錄保持人。但當她回到地球時,卻發現地球正在全境封鎖中…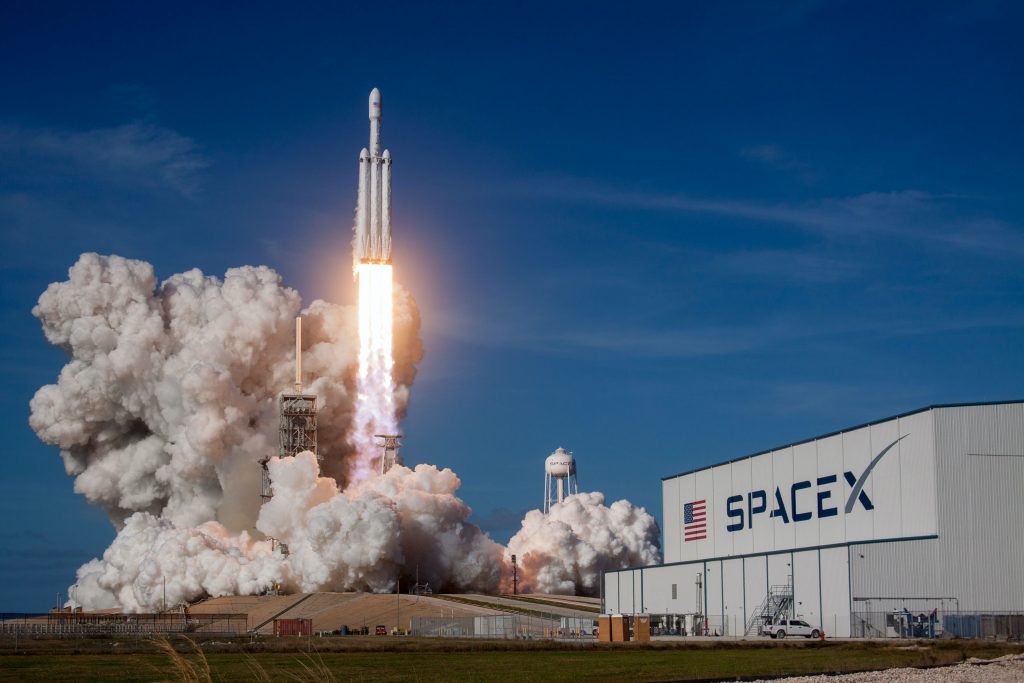 Miscellaneous 有的沒的
Watch: In the French media, Gentefied on Netflix has been highly recommended. We gave it a try with my husband and we loved it! 
It is a bilingual series about a Hispanic family in Los Angeles whose livelihood is threatened in a rapidly gentrifying Los Angeles neighborhood. It takes a few episodes to get hooked but I found it fun and sensitive while touching on very real contemporary issues. 
Cook: Sharing with you my favorite "no idea what to cook for dinner" recipe: Creamy Mushroom Chicken. Very easy and the whole family will love it – with rice or pasta and a glass of white wine 😉
Smile: Before I gave birth to my daughter, a lot of people would tell me that being a parent is the most rewarding and the most challenging job ever. This is very true! This is quite old but still a brilliant campaign from American Greetings that I'd like to share. Not a sponsored post, just feeling that this perspective is very smart 🙂 
That's it for this week! 
追劇:
法國媒體推薦 Netflix 上的影集 Gentefied(上游夢)。我跟先生觀看以後,兩人都十分喜歡。
這齣雙語影集,主要描述一個拉美裔家族,生計落腳於洛杉磯,卻受到當地社區快速「上流化」的排擠威脅。看了好幾集之後,我開始無法自拔,每一集都很有趣,並且觸及非常真實的現代問題。
烹飪:
面對那些「不知要煮什麼的時刻」,一定得跟分享一下我最愛的食譜:奶香蘑菇雞。作法簡單、容易上手,搭配白飯或義大利麵,外加一杯白酒,是全家都能食指大動。
笑一個:
在生女兒之前,許多人告訴我,育兒是一份最有意義的工作,我十分認同!American Greetings 曾做過一場很精彩的行銷活動,想跟各位分享。我覺得這個觀點,真是十分睿智呢。
我在這週的專欄分享了新冠肺炎在音樂、藝術、時尚帶來的影響,女性領導人的卓越表現,以及我對於風格生活的看法。希望你喜歡,我們下次見!