THOUGHT LEADERS
Cecily Liu 劉純芳
#Empowered #SheratonHsinchu #MoxyTaichung #Learning #Investinwomen
I am the CEO of Grace Construction Company, a holding company that owns and operates hospitality properties. Our properties and brands include Sheraton Hsinchu Hotel, La Vida Taichung Hotel, Moxy Taichung Hotel (opening soon), and Fresh Corner Bakery & Deli. I enjoy the process of building things from the ground up, working with my team and witnessing our shared dreams become reality. I wake up everyday and feel excited about new spaces to built, new teams to cultivate, new ideas to thrive on and new experiences to craft. Our team aspires to change the way the world sees hospitality with innovation.  
After receiving my MBA from Stanford Graduate School of Business, I became a strong believer that education can help us reach our potential and live a better life, just how I experienced myself during my time at Stanford. Four years ago, I set up Sheraton's annual program to give back to the community.  This year, I will be starting a cultural foundation. 
I see myself as an advocate of female leadership, empowerment, and an enthusiastic wellness practitioner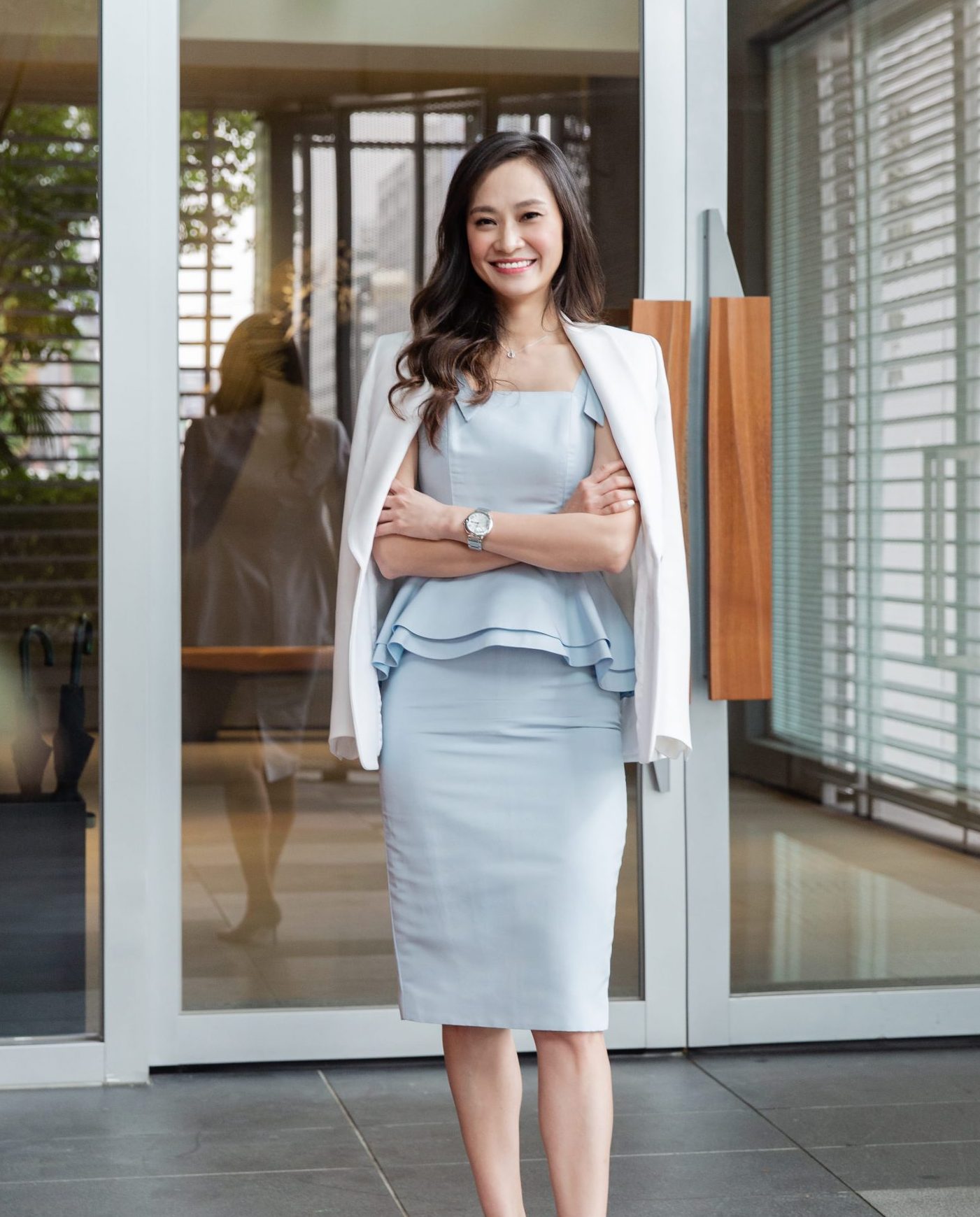 What cities we can find you in:
You can find me in different cities in Taiwan, because I split my week among Hsinchu, Taichung, and Taipei. I travel to San Francisco and Luxembourg occasionally to visit friends and family.
因為工作的關係,我每週穿梭在台灣各城市,像是台北、新竹跟台中。我也會時常造訪舊金山和盧森堡看看家人和朋友。
What's your Edge?
I've had a non traditional background in all the industries I've been doing, both hotel and real estate development. As a young female executive surrounded by peers who often have 20+ years experience in the industry.
Being open minded, willing to listen and to communicate, and giving the team rooms to learn and grow are my way to make my team, business partners and my board to share my vision. I have a lot of new ideas and want to start a lot of new projects, but the only way to make those ideas become reality is to make people who are involved believe the ideas as much as I do. 
During the execution of new ideas and projects, I like to get involved along the way in order to know when to adjust and pivot. When you execute, things always do not follow the plan 100%. When other factors play into parts, I like to be there to support my team and overcome challenges together, making sure at the end of the day, we still get what we want the most to be included in the final products. 
在我從事的產業(飯店業與房地產開發)中,我擁有的都是非傳統背景。身為一位年輕女性主管,工作環境時常圍繞著擁有20多年經驗的同仁夥伴。
抱持開放的心態、樂於傾聽和溝通、提供團隊學習和成長的空間,是我讓團隊、合作夥伴和董事會分享願景的方式。我有很多新想法,並想嘗試許多新穎的專案,但使這些想法成功執行的唯一方法,是讓參與其中的人,和我持有一樣的信念。
在執行新專案時,我樂於參與其中,在前線根據狀況領導與調整。事情總不會100%遵循計劃,當有不可抗因素出現時,我與我的團隊並肩,共同克服挑戰,以確保在最終,我們仍能呈現最好的產品和服務。
How do you prioritize time:
By making continuous efforts to reflect and by analyzing patterns on how I spend my time. I usually use my Christmas break to have my big annual reflection, to step back and set or adjust goals in different aspects of life, and to decide an overarching goal for that year.
To execute the plan, before the week starts, I write down the three most important things for each day to accomplish. At the end of each month, I review my calendars and see whether I allocate my time according to my annual goals, and do a write up. 
我時常反思和分析自己如何分配時間。我每年會在聖誕假期間,檢視過去一年的自己,並設定、調整生活中各方面的目標,為新的一年規劃總體目標與計劃。
為了確保計劃落實,我每一週都會寫下未來七天,每天最重要的三項事情。月末時,我會查看日曆,記錄自己是否根據年度目標有效分配時間。
Stress management tips?
Exercise.
On those days I manage to get out of the bed and hit the gym at 6 am, I always feel more accomplished and more resilient to stress. Since I am constantly moving from city to city and have one meeting after another,having this one thing unchanged on my schedule gives me some kind of stability and a sense of control of my time.
Cooking, learning another language, and traveling during my off time also keep my hands busy and my mind occupied with thoughts not relating to work, thats my "me time".  
運動有助我管理壓力。
成功在早上6點起床健身的時候,會讓我感到更有成就感,對抗壓力也更有韌性。我長期在不同城市移動,永無止盡的開會,因此固定的運動習慣,給了我一些穩定性和控制時間的感覺。
而在工作之餘,我也會料理烹飪、學習新語言、旅行,使我能遠離工作事務,是留給屬於「自己」的寶貴時間。
What are you reading these days?
I read novels before sleep and read other non fiction books when I am on the train. Other than business books, I enjoy reading books involving some psychology studies, such as Mindset, Grit, and Flow: The Psychology of Optimal Experience.   
我睡前會讀小說,通勤時會讀非文學書籍。除了商務書籍之外,我還喜歡閱讀心理學相關的書籍,最近的書籍推薦- [心流:高手都在研究的最優體驗心理學]。
Connect with Cecily
Cecily is an advocate for female leadership and passionate in mentoring talented young women in the Asia Pacific. Contact us if you have programs or initiatives that share the same mission, or if you want to join her team.
[contact-form-7 id="28055″]